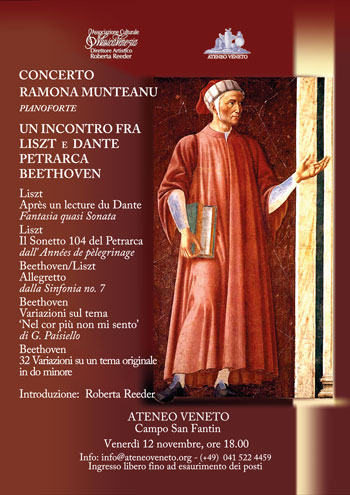 A MEETING BETWEEN LISZT AND
DANTE,
PETRARCA,
BEETHOVEN
CONCERT
RAMONA MUNTEANU, piano
Introduction: Roberta Reeder
ATENEO VENETO, Venice
Friday, 12 November, 2021 at 6.00 p.m.
Admission free

Info: (+39) 041 520 9562 info@ateneoveneto.org
Many times in his life Liszt paid homage to great figures of the past. In this concert there are examples:
Dante with "Après une letture du Dante", Petrarch with "Sonnet 104 by Petrarch," and Beethoven with Liszt's transcription of the "Allegretto" from Symphony n. 7.
With the music dedicated to Dante, Musica Venezia commemorates the 700th anniversary of the death of this great poet.