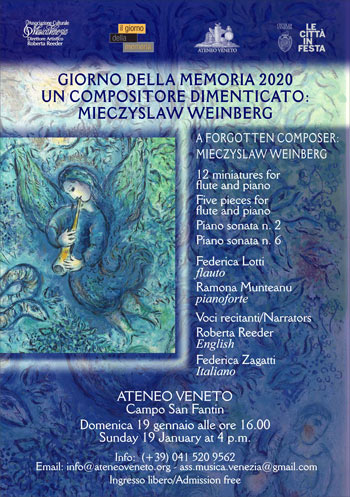 REMEMBRANCE DAY 2020
A FORGOTTEN JEWISH COMPOSER:
MIECZYSŁAW WEINBERG (1919-1996)

12 miniatures for flute and piano
Five pieces for flute and piano
Piano sonata n. 2
Federica Lotti, flute
Ramona Munteanu, piano
Narrators: Federica Zagatti (italian), Roberta Reeder (english)


ATENEO VENETO, Campo San Fantin
Sunday 19 January 2020 at 4. p.m.


Admission free

Info: (+39) 041529562 info@ateneoveneto.org - ass.musica.venezia@gmail.com
Born in Warsaw in 1919, at the age of 12 Weinberg entered the Warsaw Conservatory, where he graduated in 1939 on the eve of the World War II. The German invasion determined the development of his career. To escape the Nazis, Weinberg fled to Minsk, to the zone occupied by the Soviet Red Army. In June 1941 the Wehrmacht began its invasion of the Soviet Union. Weinberg was evacuated to Tashkent in Uzbekistan, and then in 1943 was transferred to Moscow. After the war in 1949 he was accused of "formalism," and in 1953 he was arrested in the period of the persecution of the Soviet Jewish intelligentsia. Due to the intercession of Shostakovich, the composer received total political rehabilitation and received the Prize of the Soviet Union in 1971. Mstislav Rostropovich and Svyatoslav Richter were admirers of his music.