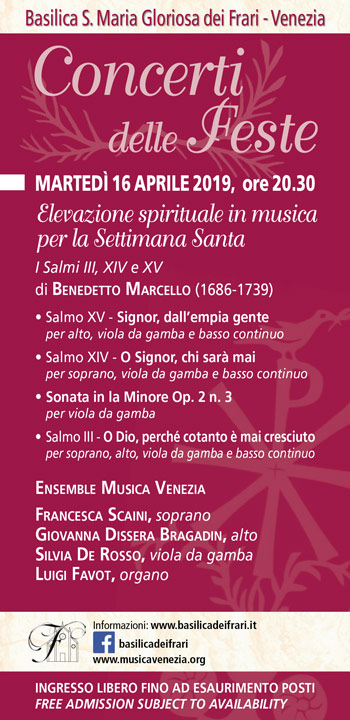 CONCERT HOLIDAY CELEBRATION
Spiritual Elevation in Music during Holy Week
BENEDETTO MARCELLO (1686-1739)
PSALMS III, XIV, XV
Salmo XV Signor, dall'empia gene
for alto, viola da gamba and basso continuo
Salmo XIV O Signor, chi sarà mai
for soprano, viola da gamba and basso continuo
Sonata in la Minore, op. 2 n.3
for viola da gamba

Salmo III O Dio, perché cotanto è mai cresciuto
for soprano, alto, viola da gamba and basso continuo
ENSEMBLE MUSICA VENEZIA
Francesca Scaini soprano
Giovanna Dissera Bragadin alto
Silvia De Rosso viola da gamba
Luigi Favot organo
Roberta Reeder narrator (English)
Federica Zagatti narrator (Italiano)
BASILICA DEI FRARI
Tuesday 16 April 2019 at 8.30 p.m.
Boat Stop: San Tomà
Admission free subject to availability
Tel: (+39) 041 272 8690
web: www.basilicadeifrari.it , www.musicavenezia.org
email: ass.musica.venezia@gmail.com
tel: (+39) 348 060 8611
Among the admirers of Benedetto Marcello's Psalms are Goethe, Rossini and Verdi. An aristocrat from an illustrious Venetian family, all his life Marcello served the State, but at the same time was a poet, writer and composer. Marcello continued having great influence on music from the 18th through the 19th century, when Antonio Vivaldi had been totally forgotten; unfortunately in the nineteenth century Marcello remained in the shadows.
However, at the Basilica dei Frari, Veince, Tuesday, 16 April at 8.30 p.m., Musica Venezia will remember this great composer and honor him with a concert, "Spiritual Elevation in Music for Holy Week" with Psalms III, XIV and XV from his Estro poetico-armonico (Venice, 1724-1747), psalms set to music for voices and basso continuo. This collection contains the first 50 Psalms by Girolamo Ascanio Giustinaini's Italian paraphrase of the Vulgate Latin Biblical version.
The concert will be performed by Francesca Scaini, soprano, Giovanna Dissera Bragadin, alto, Silvia De Rosso, viola da gamba, Luigi Favor, organo; Roberta Reeder (English) and Federica Zagatti (Italian) narrators.