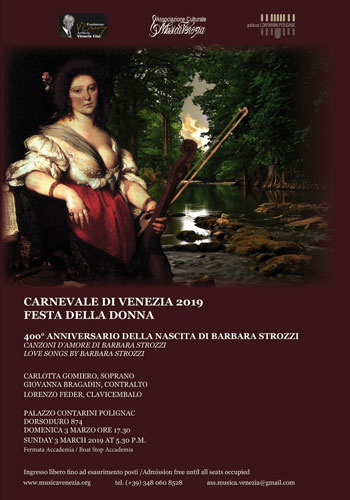 Carnival of Venice 2019
Festival of Women

CELEBRATION OF THE 400TH ANNIVERSARY OF THE BIRTH OF
BARBARA STROZZI
LE CANZONI D'AMORE


Carlotta Gomiero soprano
Giovanna Bragadin contralto
Lorenzo Feder harpsicord
PALAZZO CONTARINI POLIGNAC
Dorsoduro 874, boat stop Accademia
Sunday 3 March 2019 at 17.30 p.m.
Admission free until all seats occupied
Info: (+39) 348 060 8528
Fascinating, gifted with a great talent for music, Barbara Strozzi was the most important Italian woman composer of the 17th century. For "March: Festival of Women" and as one of the events in the "Carnival of Venice 2019," the Association Culturale Musica Venezia will present a concert with Strozzi's cantatas and arias at Palazzo Contarini Polignac on 3 March at 5.30 p.m.
The concert will be performed by noted specialists in baroque music: Carlotta Gomiero, soprano and Giovanna Bragadin, contralto, who will sing Strozzi's very beautiful arias and cantatas accompanied by Lorenzo Feder, who, as soloist, will present other pieces for harpsichord by Michelangelo Rossi and Gregorio Strozzi, both 17th-century composers. The concert will be introduced by Roberta Reeder, Artistic Director of Musica Venezia.
Barbara Strozzi
Born in Venice in 1619, Barbara Strozzi was the adopted (perhaps illegitimate) daughter of the judge, poet and librettist Julius Strozzi, one of the most prolific librettists of the early 17th century. Barbara was the pupil of the famous Francesco Cavalli, Maestro di Cappella of St. Mark's. In 1637 her adopted father founded the Accademia degli Unisoni, where Strozzi became a member and at their meetings recited and sang her own works, mainly setting to music her father's works. She was eventually forgotten and died in 1677 in Padua in straitened circumstances.
Info: www.musicavenezia.org.
email: ass.musica.venezia@gmail.com
tel: (+39) 348 060 8528