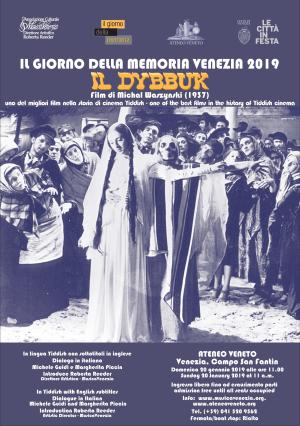 REMEMBRANCE DAY 2019
Film
IL DYBBUK
Directed by Michal Waszynski (1937)
Yiddish film with English subtitles
Dialogue in Italian recited by Michele Guidi e Margherita Piccin
Religion chants sung by Gerszon Sirota
Introduction Roberta Reeder
ATENEO VENETO*

Sunday 20 January 2019 at 11 a.m.
Admssion free
Info: (+39) 041 520 9562
Considered one of the best films in the history of Yiddish cinema, "The Dybbuk" is inspired by what in the Jewish Hassidic tradition is an evil spirit which can possess human beings. Inspired by the drama "The Dybbuk" by S. Ansky, the film was made in Poland in 1937 and has some of the best Polish Jewish talent just before WWII: screen writer, set designer, composer, choreographer, actors and historical consultant. During the projection it will also be possible to hear the voice of the famous synagogue cantor Gerszon Sirota, who performs typical Hebrew ritual music. Several years later Sirota, as well as his entire family, died tragically in the Warsaw Ghetto.
Instead of subtitles, Michele Guidi and Margherita Piccin will recite the dialogue of the film in Italian.
Info: www.musicavenezia.org.
email: ass.musica.venezia@gmail.com
tel: (+39) 041 520 9562
*boat stop Rialto