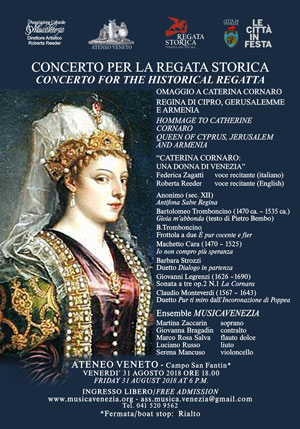 CONCERT FOR THE HISTORICAL REGATTA
HOMAGE TO CATHERINE CORNARO
QUEEN OF CYPRUS, JERUSALEM, ARMENIA
CATHERINE CORNARO: A VENETIAN WOMAN
Federica Zagatti narrator (italian)
Roberta Reeder narrator (english)
CONCERTO
Music by C. Monteverdi, B. Strozzi, B. Tromboncino, G. Legrenzi
ENSEMBLE MUSICA VENEZIA
Martina Zaccarin soprano
Giovanna Bragadin contralto
Marco Rosa Salva recorder
Luciano Russo lute
Serena Mancuso cello
ATENEO VENETO
Campo San Fantin*
Friday, 31 August 2018 at 6 p.m.
ADMISSION FREE
At Ateneo Veneto Friday 31 August at 6 p.m. there will be the traditional concert that Roberta Reeder, Artistic Director of Associazione Culturale Musica Venezia, organizes every year for the Historical Regatta, as homage to the Queen of Cyprus, Jerusalem, and Armenia, Catherine Cornaro. The pieces will be performed by Ensemble Musica Venezia, with Martina Zaccarin, soprano, Giovanna Bragadin, contralto, Marco Rosa Salva, recorder, Luciano Russo, lute and Serena Mancuso, cello.
As often in concerts by the Association, the concert will be composed of rare pieces of Renaissance and Baroque music. In particular, there will be the "frottolas" of Bartolomeo Tromboncino and Machetto Cara. These are popular songs in fashion between the fourteenth and fifteenth century, with clear and simple melodies, which are in contrast to the complexity of the contemporary polyphony, and which had a great influence on the French chanson. The concert will be preceded by a recitation in English and Italian of "Catherine Cornaro: a Woman from Venice," narrated by Roberta Reeder in English and Federica Zagatti in Italian and with projections of famous paintings of Catherine Cornaro.
Info: www.musicavenezia.org.
email: ass.musica.venezia@gmail.com
tel: (+39) 041 520 9562
*boat stop Rialto