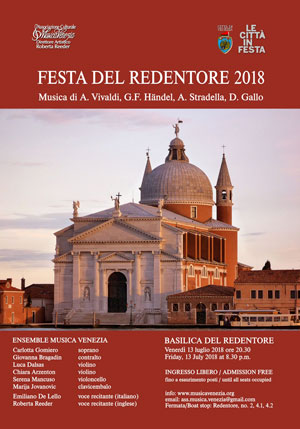 FESTIVAL OF REDENTORE 2018
Sacred Music by A. Vivaldi, G.F. Händel, A. Stradella, D. Gallo, D. Gabrielli
ENSEMBLE MUSICA VENEZIA
Carlotta Gomiero soprano
Giovanna Bragadin contralto
Luca Dalsas violin
Chiara Arzenton violin
Serena Mancuso cello
Marija Jovanovic harpsichord
Emiliano De Lello narrator (Italian)
Roberta Reeder narrator (English)
REDENTORE BASILICA
Friday 13 July 2018 at 8.30 p.m.
ADMISSION FREE
Info: www.musicavenezia.org.
email: ass.musica.venezia@gmail.com
tel: 348 060 8528
Also this year on the occasion of the Feast of Redentore there will be a presentation of beautiful sacred music offered to the City of Venice by the Associazione Culturale Musica Venezia.
The Feast of Redentore is a Venetian feast celebrated every year on the third Sunday of July, an event commemorating the construction of the Redentore Basilica as a religious offering for the liberation of the city from the plague of 1575-1577, a disaster which caused the death of more than a third of the population in only two years.
The Basilica is an important religious edifice designed by the architect Andrea Palladio in 1577 on the island of the Giudecca. Inside there are works by Domenico Tintoretto and Paolo Veronese.