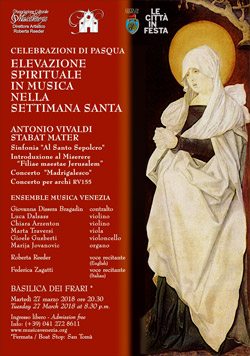 SACRED MUSIC OF ANTONIO VIVALDI
STABAT MATER
Sinfonia "Al Santo Sepolcro"
Introduzione al Miserere
"Filiae maestae Jerusalem"
Concerto "Madrigalesco"
Concerto per archi RV 155
ENSEMBLE MUSICA VENEZIA
Giovanna Dissera Bragadin contralto
Luca Dalsass violin
Chiara Arzenton violin
Marta Traversi viola
Gioele Gusberti cello
Marija Jovanovic organ
Roberta Reeder narrator (English)
Federica Zagatti narrator (Italian)

BASILICA DEI FRARI*
Tuesday 27 March 2018 at 8.30 p.m.
Admission free
Info: (+39) 041 272 8611
www.musicavenezia.org
*Boat stop: San Tomà
To celebrate Easter, the Associazione Culturale Musica Venezia will present "A Spiritual Elevation in Music in Holy Week" with sacred works by Antonio Vivaldi at the Basilica dei Frari in Venice. The concert will take place on Tuesday, 27 March at 8.30. Admission free.
In Venice it is often possible to hear Vivaldi's secular pieces, but rarely his sacred works. However, he wrote magnificent sacred music his whole life, composing in different genres, such as parts of the Mass (Kyrie, Gloria, Credo), psalms like "Laudate pueri", four Magnificats, hymns, and also the oratorio Juditha triumphans.
For Holy Week, Ensemble Musica Venezia will perform the very beautiful "Stabat Mater" and "Filiae maestae Jerusalem," an introduction to "Miserere", psalm 51. The vocal works will be performed by contralto Giovanna Dissera Bragadin, accompanied by Luca Dalsass e Chiara Arzenton, violins, Marta Traversi, viola, Gioele Gusberti, cello and Marija Jovanovic, organ. The musicians will also play instrumental pieces: the "Symphony at the Holy Sepulchre" and two concertos for strings, "Concerto Madrigalesco", RV 129 and "Concerto for Strings", RV 155. The "Musical Elevation" will be preceded by an introduction in English by Roberta Reeder, Artistic Director of Musica Venezia, and in Italian by Federica Zagatti.
Info: tel. 041 272 8611.