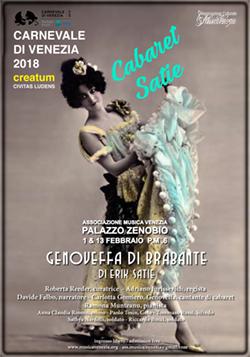 PALAZZO ZENOBIO
Fondamenta del Soccorso, Dorsoduro 2597
(Line no. 2, Boat Stop San Basilio)
Thursday 8 February at 8 p.m.
Tuesday 13 February at 8 p.m.
GENEVIEVE OF BRABANT [Gènevieve de Brabant]
(Pantomime Version) by Erik Satie
Adriano Iurissevich, director. Narrator, mime-dancer, actors, soprano, baritone, pianist.
CABARET SONGS [Chansons di Caberet] by Erik Satie
Admission Free
info: 348 060 8528
CONTACT: Roberta Reeder, roberta.reeder@gmail.com
ASSOCIAZIONE CULTURALE MUSICA VENEZIA
CARNIVAL OF VENICE 2018
CABARET SATIE
GENEVIEVE OF BRABANT
A version of the famous story of Genevieve created by Satie for marionettes will be performed on this occasion with narration, pantomime and music. It was written by Satie while working as a cabaret pianist during the 1890s. The music is composed of simple melodies typical of popular songs. The score of this micro-opera was found behind his piano after Satie's death. The first posthumous performance was in 1926.
CABARET SONGS
In Cabaret Satie the soprano interprets some of the most beautiful cabaret songs of the period, when the composer was working at the famous Chat Noir in Paris: Je te veux, Tendrement, Poudre d'or, La Diva de l'Empire. There will also be pieces for solo piano, such as Gymnopédie, performed by Ramona Munteanu.
GENOVEFFA DI BRABANTE
The story. The evil Golo, steward of Sifredo, Duke of Brabant, wants to make love to Genevieve, the Duke's innocent wife. After having convinced Sifredo to go to the forest to hunt a doe, Golo tries in vain to seduce the duchess. In revenge for being rejected, Golo accuses Genevieve of having betrayed her husband and orders soldiers to take her to the forest and cut off her head. However, the soldiers pity the poor duchess and save her life. Abandoned in the forest, Genevieve survives thanks to the milk of a young doe. While hunting, Sifredo finds his wife and, having learned from her what has occurred, does not kill the deer. When he returns to the castle with his wife, the duke shouts at Golo, "You brute, you wretch and imposter" and orders the soldiers to kill him.
The event has been organized by Roberta Reeder with Adriano Iurissevich, director; Davide Falbo, assistant director; Anna Claudia Romeo, mime-dancer; Carlotta Gomiero, soprano; Paolo Tosin, baritone; Ramona Munteanu, pianisa; Tommaso Russi, Sathya Nardelli, Riccardo Bucci, actors/mimes.