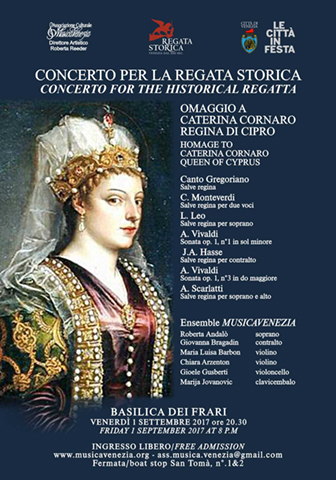 CONCERT: THE HISTORICAL REGATTA
HOMAGE TO CATERINA CORNARO, QUEEN OF CYPRUS
Dedicated to the 450th anniversary of the birth of Claudio Monteverdi
"Salve regina" by C. Monteverdi, L. Leo, J.A. Hasse, A. Scarlatti
Sonatas by A. Vivaldi
Roberta Andalò, soprano
Giovanna Bragadin, contralto
ENSEMBLE MUSICA VENEZIA
VENICE BASILICA OF THE FRARI
FRIDAY, 1 SEPTEMBER 2017 AT 8.30 P.M.
ADMISSION FREE
Info: (+39) 041 272 8611
Boat Stop: San Tomà, lines no. 1 & 2
On the occasion of the spectacular procession of the Historical Regata on the Grand Canal, Ensemble Musica Venezia commemorates the welcome in tribute to Catherine Cornaro, Queen of Cyprus, with a concert presented with the patronage of the municipality of Venice and Città in Feste.
In the Historical Regata, the Doge [Duke] and his wife appear in file with the Queen, escorted by ambassadors, ladies-in-waiting and gondoliers in costume in boats typical of the 15th century. This event calls to mind the triumphal welcome to Caterina Cornaro, wife of the King of Cyprus, when she returned to Venice and bestowed her kingdom to Venice.