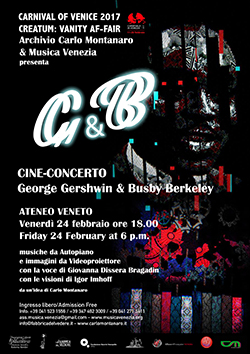 CARNIVAL OF VENICE
ATENEO VENETO
Friday 24 February at 6 p.m.
CINE-CONCERT
GG&BB George Gershwin & Busby Berkeley
music from a player piano, images from a projector
voice by Giovanna Bragadin, visions by Igor Imhoff
on an idea by Carlo Montanaro
ATENEO VENETO
Musical works alternating with projections of Busby Berkeley films.
Admission free
Carnival of Venice 2017
CREATUM: VANITY AF-FAIR
a project
ASSOCIAZIONE CULTURALE MUSICA VENEZIA
ASSOCIAZIONE CULTURALE ARCHIVIO CARLO MONTANARO
GG&BB
George Gershwin and Busby Berkeley
Ateneo Veneto
Friday 24 February at 6 p.m.
Among the events promoted for Carnival by the cultural association Musica Venezia and Archivio Carlo Montanaro, Friday 24 February at 6 p.m., at Ateneo Venet, GG&BB, George Gershwin and Busby Berkeley will be presented, recalling the American shows of the 20's and 30's between reality, stage, and screen.
A selection of choregraphy between the fantastic and the surreal drawn from the most spectacular musicals by Busby Berkeley will alternate with the contralto Giovanna Dissera Bragadin singing songs from the 1920s by George Gershwin.
She will be accompanied by Gershwin himself, thanks to the illusion created by the video artist Igor Imhoff, who will render "visible" the codified music of the great composer, graphically recalling the flowing sound of the piano roll of the pianola, an instrument in vogue before the phonograph which restores the performer's interpretation absolutely faithfully. It is exciting to be able to see and listen to the keyboard virtually – projected on a vertical screen! –responding to the fingers of the composer himself, who interprets his famous Rhapsody in Blue.