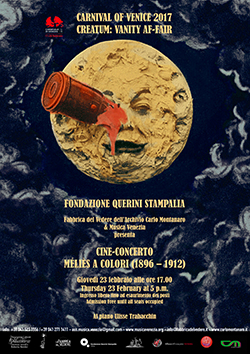 CARNIVAL OF VENICE
Thursday 23 February at 5 p.m.
FONDAZIONE QUERINI STAMPALIA
CINE-CONCERT
MÉLIÈS A COLORI (1896 – 1912)
Campo Santa Maria Formosa
An anthology of Georges Méliès most spectacular films
Ulisse Trabacchin, piano
Admission Free
Méliès in color
Fondazione Querini Stampalia
Thursday 23 February, at 5 p.m.
Méliès in color is the first among the cine-concerts scheduled at the Fondazione Querini Stampalia, Thursday at 5 p.m., among the events organized for Carnival by the cultural associations Musica Venezia, artistic director Roberta Reeder, and Archivio Carlo MOntnaro, dedicated to the subtle play between vanity and appearance. Curated by Carlo Montanaro, the cine-concert encompasses a magnificent anthology in color of the most spectacular films among those written, produced, directed and interpreted by Georges Méliès, inventor of feature film. The accompaniment on harpsichord and keyboard is by Ulisse Trabacchin.
Among the films of the evening: Le livre magique, where characters from the Commedia dell'Arte leave and re-enter the pages of a book; La danse du feu, in which a ballerina arises from a pan on a huge fire lit by a devil and performs a sperpentine dance a la Loie Fuller; Le voyage de Gulliver a Lilliputi et chez le géants, from Jonathan Swift's novel; a fairy tale, Royaume des Fées. And finally, Excursion dans la lune, Segundo de Chomo's imitation of Méliès' very famous film Voyage dans la lune, which demonstrates Méliès' superiority in the science fiction genre, which he himself invented.
A veritable cinematographic genius, Méliès, who transported the theater of illusions to celluloid, mixing reality and fiction with a repertoire of special effects which still today are at the basis of the fantastic in cinema. Passionate about conjuring and prestidigitation, from 1896 Méliès began to make films in his famous theater of Montreuil: a place of incredible production, between a photo studio, stage with a trap door, wings, costume shop, dressing rooms and set design workshop for painting scenery. Méliès entrusted M.me Thullier's laboratory for the coloring of celluloid by hand, in which an employee was not able to color more than 4 or 5 meters (about 250 photograms, a little less than 20 seconds) a day.
Among the other fifty films made, his most famous is The Voyage to the Moon in 1902, beloved and copied especially in America. Until today less than two hundred of his titles have been restored.