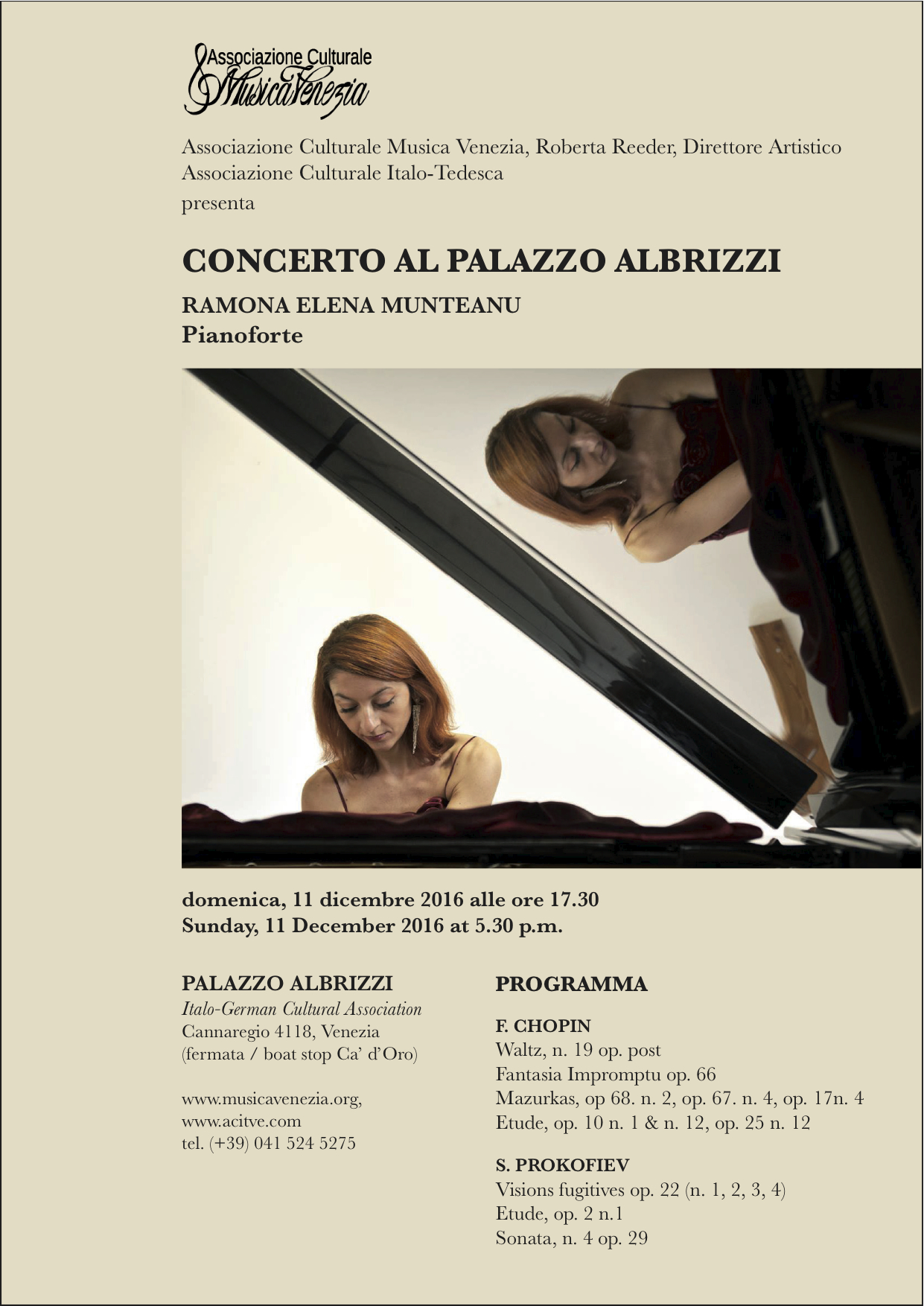 Associazione Culturale Musica Venezia
and Associazione Culturale Italo-Tedesca
present
CONCERT AT PALAZZO ALBRIZZI
RAMONA ELENA MUNTEANU, piano
Sunday, 11 December 2016 at 5.30 p.m.
Chopin: Walz no.19, Fantasia Impromptu, Mazurkas, Etudes
Prokofiev: Visions fugitives, Etude op. 2 no.1, Sonata op. 29 no. 4
On Sunday, 11 December at 5.30 p.m., the Associazione Culturale Musica Venezia, Roberta Reeder, Artistic Director, and the Associazione Culturale Italo-Tedesco
will present CONCERT AT PALAZZO ALBRIZZI with the Romanian pianist Ramona Munteanu. The program is a "study in opposites": Chopin's romantic intimacy and virtuosity in contrast to Prokofiev's avant-garde tonal innovations, dissonance and polyrhythms. Performing the tempest of rapid notes and arpeggios with great virtuosity, the pianist will emphasize the intimate nature of Chopin's music, with its delicate and refined style, and will then confront the challenge of Prokofiev's innovative works.
As with other contemporary composers of the Romantic movement, Chopin favored the piano for its particular expressive capacity and innumerable possibilities of gradations of intensity and timbre. In the Etudes heard in this concert, the very expressive aspect of the melodic line moves between many alternations of different dynamics and tempos. With the Mazurkas, Chopin displays another aspect typical of Romanticism: the consciousness of national identity and interest in folklore traditions deriving from the patrimony of the folk music and songs of Chopin's Poland. The very beautiful Fantasia Impromptu opens with an "Allegro agitato" in which the turbulent flow of notes in the right hand in legato is accompanied by undulant arpeggios of the left hand. Prokofiev broke the rules of musical tradition, becoming one among the great protagonists of modern music, along with Scriabin, Schoenberg and Stravinsky. This concert presents pieces at the beginning of his career, characterized by experimentation, dissonance, unusual rhythms and a rapid succession of dynamic contrasts. Of the 20 pieces of Visions fugitive, four brief and elegant pieces will be performed. In Etude op. 2 n.1 there are incredible passages of polyrhythms. The concert will end with the Sonata n. 4 dedicated to Prokofiev's dear friend Maximilian Schmidthof, whose suicide was such a blow to the composer. The second movement of the Sonata has a very complex texture, where diverse melodies interweave, reminiscent of medieval polyphony.
Born in Romania, Ramona Munteanu began her concert activity early, appearing for the first time as soloist with an orchestra at the age of nine. Having received her diploma in piano at the Accademy of Music "Theorghe Dima" in Cluj Napoca, Romania, in 2010 she graduated with a diploma in piano at the Benedetto Marcello Conservatory in Venice. She has received grants to study in Italy, the United States and Spain. In the course of her career she has appeared in numerous concerts in various countries, including the United States, Romania, Italy, and Spain. Recently she has appeared in concerts as both solist and in chamber music in prestigious theaters like the Teatro la Fenice, Teatro Malibran, Teatro Goldoni, and the Sala dei Giganti of Palazzo Liviano in Padua. In 2009 she was a soloist with the Teatro La Fenice orchestra. She has won national and international competitions, including second prize at the "Festival di Bellagio" 2011 and performed from 2014 to 2016 at the Festival Concerti del Tempietto – Festival Musicale delle Nazioni" in Rome. She was invited to appear on the TV program "Credinta si cultura azi" in Bucharest, Romania (2016). Since 2010 she has been collaborating with Associazione Culturale Musica Venezia in various concerts in Venetian theaters and palaces.