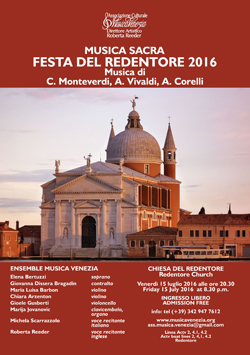 FEAST OF REDENTORE 2016
Music by C. Monteverdi, A. Vivaldi, A. Corelli
ENSEMBLE MUSICA VENEZIA
Elena Bertuzzi soprano
Giovanna Dissera Bragadin contralto
Maria Luisa Barbon violin
Ciara Arzenton violin
Gioele Gusberti cello
Marija Jovanovic harpsichord, organ
Michela Scapazzolo narrator (italiano)
Roberta Reeder narrator (English)
REDENTORE CHURCH
Friday 15 July 2016 at 8.30 p.m.
ADMISSION FREE
Info: www.musicavenezia.org.
email: ass.musica.venezia@gmail.com
Friday 15 July at 8.30 p.m. a magnificent concert of sacred music will take place for the Festival of Redentore 2016, a traditional cultural event organized by the Associazione Culturale Musica Venezia.
The Festival of Redentore is a Venetian festival that occurs on the third Sunday of July. It celebrates the construction of the Redentore Church as a votive offering for the liberation of the city from the plague of 1575-1577, a disaster which caused the death of more than one-third of the population of the city in only two years.