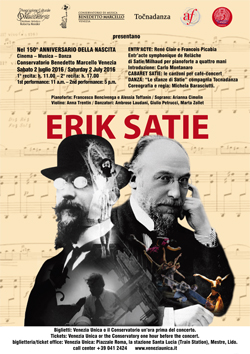 Cinema – Music – Dance
"ENTR'ACTE": René Clair and Francis Picabia
"Entr'acte symphonique de Relâche" di Satie/Milhaud for piano four-hands.
Introduction: Carlo Montanaro
CABARET SATIE: songs for café-concert
DANCE: "Satie's Rooms" compagnia Tocnadanza
Choreography and direction: Michela Barasciutti
Piano: Francesco Bencivenga and Alessia Toffanin / Soprano: Arianna Cimolin.
Tickets: Venezia Unica or the Conservatory one hour before the concert.
Ticket office: Venezia Unica: Piazzale Roma, Train Station, Mestre, Lido.
Call center: +39 041 2424 www.veneziaunica.it