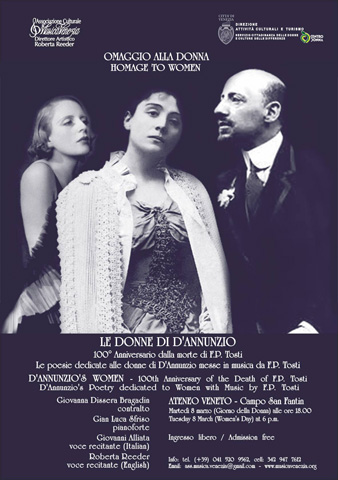 HOMAGE TO WOMEN
D'ANNUNZIO'S WOMEN
100th Anniversary of F.P. Tosti
D'Annunzio's poetry dedicated to women with music by F.P. Tosti
ATENEO VENETO
Tuesday 8 March (Women's Day) at 6 p.m.
Admission Free
Giovanna Dissera Bragadin, contralto
Gian Luca Sfriso, piano
Giovanni Alliata, narrator (Italian)
Roberta Reeder, narrator (English)
Info: tel. (+39) 041 520 9562, cell: 342 947 7612
Email: ass.musica.venezia@gmail.com
D'Annunzio's relationship with his inspiring muses is an important chapter of his life, but also of literature and the cultural climate between the 1800s and 1900s. This event will present the poetry written by D'Annunzio dedicated to his muses such as Eleonora Duse, Ida Rubinstein, Tamara Lempicka, and Romaine Brooks and also celebrates the 100th anniversary of the death of Francesco Paolo Tosti, who set to music D'Annunzio's poetry dedicated to women.
Il rapporto di D'Annunzio con le sue muse ispiratrici constituisce un capitolo importante della sua vita, ma anche della letteratura e del clima culturale tra '800 e '900. Questo evento presenta le poesie scritte da D'Annunzio e dedicate alle sue muse come Eleonora Duse, Ida Rubinstein, Tamara Lempicka, Romaine Brooks e celebra anche 100° anniversario dalla morte di F.P. Tosti, che ha messe in musica le poesie di D'Annunzio dedicate alle donne.