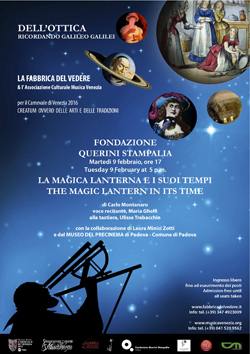 CARNIVAL IN VENICE 2016
LA FABBRICA DEL VEDERE
& MUSICA VENEZIA
THE MAGIC LANTERN IN ITS TIMES
Tuesday 9 february at 5 p.m.
FONDAZIONE QUERINI STAMAPALIA
ADMISSION FREE
until all seats occupied
Info: tel. 342 947 7612
Can the fairy tale /the magic be married to the transgression typical of Carnival? "THE MAGIC LANTERN IN ITS TIMES," the production which concludes "FROM OPTICS, REMEMBERING GALILEO GALILEI," the cycle of events proposed for the Carnival of Venice 2016 by the Associazione Musica Venezia and La Fabbrica del Vedere of Archivio Carlo Montanaro, attempts to answer this question. From the end of 1600, the Magic Lantern has terrified, amused, enchanted, and astounded generations of spectators, indicating the road to that technology of fiction which from the beginning of 1900 has triumphed with the invention of Cinema. And it is namely this path dedicated to the marvels of vision which will be presented again Tuesday 9 February at 5 p.m. in the auditorium of the Venice Fondazione Querini Stampalia, narratin,g as if in a fairy tale, the choice of life of Anna Maria Cortina, who at the end of 1700 practiced the profession of "laternist," and who ideally passed on the testimony to Laura Minici Zotti, who became a real ambassador of the magic visions of the world, performing her last presentation at Giornate Del Cinema Muto (Days of Silent Cinema) in 2010, and then dedicating herself exclusively to the administration of her MUSEUM OF PRECINEMA in Padua. Decisive for both Cortina and Minici Zotti was Venice, which will be shown in all its forms thanks to such an elaborate technique of image rendition. "THE MAGIC LANTERN IN ITS TIMES" (which ends with one of Georges Méliés' films, which certainly could not but be entitled THE MAGIC LANTERN) was constructed by Carlo Montanaro with the collaboration of Laura Minici Zotti of the Museum of Precinema of Padua – Comune of Padua—and of its collection, together with the Archivio Carlo Montanaro and with the support of the Associazione Culturale Musica Venezia, Roberta Reeder Artistic Director with Maria Ghelfi, narrator and Ulisse Trabacchin at the keyboard.