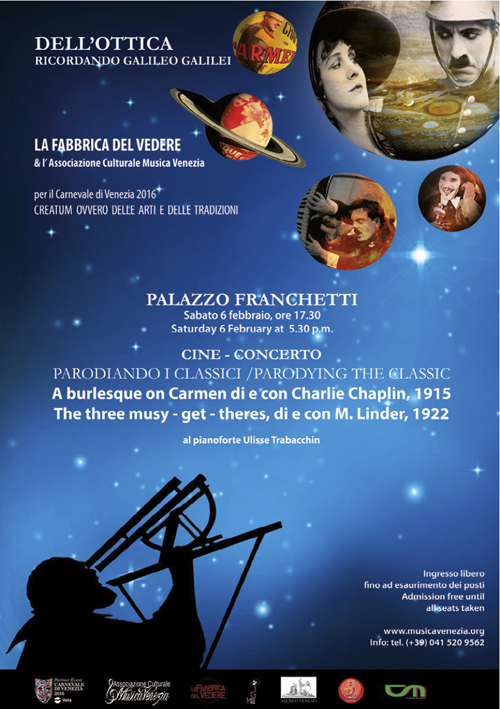 LA FABBRICA DEL VEDERE
& L'ASSOCIAZIONE CULTURALE MUSICA VENEZIA
PARODYING THE CLASSICS
A burlesque on Carmen - di e con Charlie Chaplin, 1915
The Three Must-Get-Theres - di e con Max Linder, 1922
Ulisse Trabacchin, piano, Translation Ilaria Bruni
PALAZZO FRANCHETTI . campo Santo Stefano
Saturday 6 February at 5.30 pm.
ADMISSION FREE until all seats occupied
Info: tel. 342 947 7612
Introductrion: Carlo Montanaro
Ulisse Trabachin, keyboards, Translation Ilaria Bruni
A Burlesque on Carmen – by and with Charlie Chaplin (1915)
The Three Must-Get-Theres – by and with Max Linder (1922)
When he began to make films, Charlie Chaplin recognized Max Linder, the refined mime and giant of the pioneering phase of the evolution of the seventh art, as a unique master. Europeans, both worked in America, achieving an enormous success. They were responsible for all major aspects of their work (subject matter, script, interpretation, direction, production), and only once did they allow themselves to be fascinated by contemporary box office hits. Thus, in his comedy which the Essenay film company edited instead of him (from that time he no longer allowed anyone to finish his projects), he parodied the super production Carmen just made by Cecil B. De Mille, recreating it from the literary source (Merimée) and the musical one (Bizet), while Linder's spoof departs from Douglas Fairbanks ("The Three Musketeers" by Dumas directed by Fred Niblo, 1921), the first light-hearted hero unblemished and without fear of celluloid, collapses into more hilarious nonsense, creating a series of inexhaustible gags capable of immersing us in a world of frivolity.