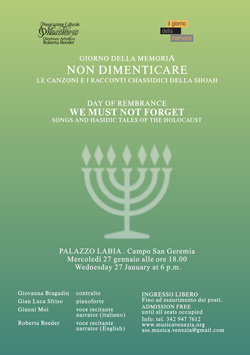 DAY OF REMEMBRANCE
WE MUST NOT FORGET
SONGS AND HASIDIC TALES OF THE HOLOCAUST
Giovanna Bragadin contralto
Gian Luca Sfriso piano
Gianni Moi narrator (Italian)
Roberta Reeder narrator (English)
Wednesday, 27 January at 6 p.m.
ADMISSION FREE until all seats occupied
Info: tel. 342 947 7612
Every year for the commemoration of Day of Remembrance, the cultural association Musica Venezia presents a special event. This year the association proposes "WE MUST NOT FORGET: SONGS AND TALES OF THE HOLOCAUST". For Day of Remembrance there are many events with music of various types by Jewish composers, some of whom who died in concentration camps. Instead Musica Venezia has dedicated this evening to songs and Hasidic tales specifically about the Holocaust, which reveal those dramatic moments when facing death and feeling desperate, Jews are still able to keep hoping and believing that in some way they will survive.