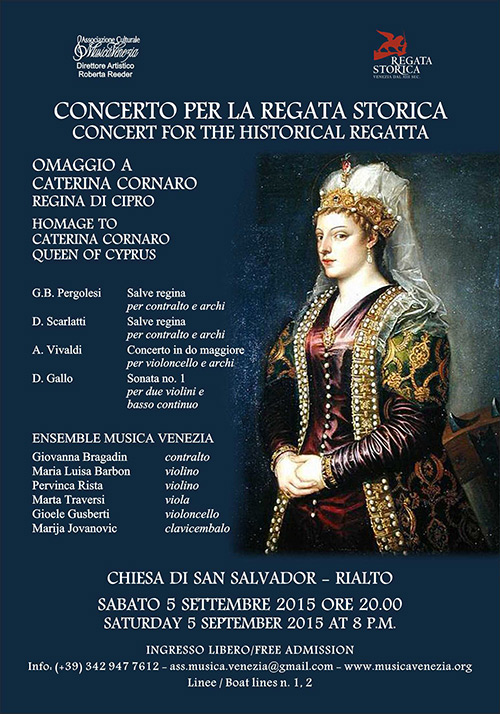 CONCERT FOR HISTORICAL REGATTA
HOMAGE TO CATERINA CORNARO
QUEEN OF CYPRUS
Music by G.B. Pergolesi, D. Scarlatti, A. Vivaldi, D. Gallo


ENSEMBLE MUSICA VENEZIA
Giovanna Bragadin, contralto
Maria Luisa Barbon, violin
Pervinca Rista, violin
Marta Traversi, viola
Gioele Gusberti, cello
Marija Jovanovic, harpsichord
SAN SALVADOR CHURCH – RIALTO
Saturday 5 September 2015 at 8 p.m.

ADMISSION FREE
Info: (+39) 342 947 7612
ass.musica.venezia@gmail.com
In honor of this event, Associazione Culturale Musica Venezia will present a special concert of beautiful sacred music at San Salvador Church where Caterina Cornaro is buried. The concert will take place on Saturday, 5 September at 8 p.m.
In homage to Caterina, Ensemble Musica Venezia will perform two lovely versions of "Salve Regina" by D. Scarlatti and G.B. Pergolesi performed by Giovanna Bragadin, contralto accompanied by Maria Luise Barbon and Pervinca Rista, (violini), Gioele Gusberti (violoncello), Marta Traversi (viola), and Marija Jovanovic (clavicembalo). There will also be two special instrumental pieces, Concerto in do maggiore per violoncello, with Gioele Gusberti as soloist, and the rarely performed Sonata no 1 per due violini e basso continuo, which Stravinsky used as a source for his ballet "Pulcinella". For many years this work was attributed to Pergolesi, but scholars discovered it was actually one of twelve sonatas written by Domencio Gallo. The concert will be introduced by a narration of the fascinating story of Caterina Cornaro written by Roberta Reeder.