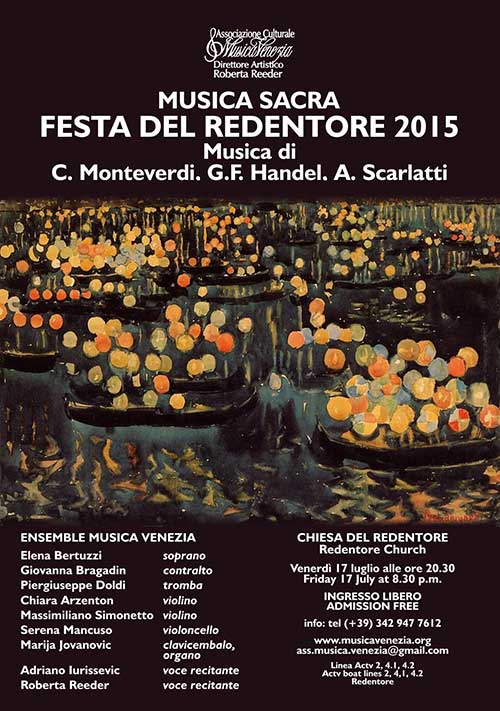 SACRED MUSIC
FESTIVAL OF REDENTORE 2015
Music by C. Monteverdi, G.F. Händel, A. Scarlatti
ENSEMBLE MUSICA VENEZIA
Elena Bertuzzi, soprano
Giovanna Bragadin, contralto
PIergiuseppe Doldi, trumpet
Chiara Arzenton, violin
Massimiliano Simonetto, violin
Serena Mancuso, cello
Marija Jovanovic, harpsicord
Adriano Iurissevic, narrator (Italian)
Roberta Reeder, narrator (English)
REDENTORE CHURCH
Friday 17 July at 8.30 p.m.
ADMISSION FREE
Tel. (+39) 342 947 7612
ass.musica.venezia@gmail.com
As an annual tradition, this year the Associazione Culturale Musica Venezia will present a magnificent concert of sacred music at the Redentore Church in Venice on Friday, 17 July.
The concert will present diverse arias from G.F. Handel's rarely performed oratorio "The Resurrection," written in 1708 when the composer was in Rome at the beginning of his career, learning the Italian style of music.
Members of the Ensemble Musica Venezia will present other pieces by Handel as well as works by A. Scarlatti and C. Monteverdi.
A special guest will be Piergiuseppe Doldi, principal trumpet of the La fenice Orchestra.
The pieces performed in this concert have been carefully chosen for their relationship to the Feast of the Redeemer, when Venice gave thanks to the Redeemer, who saved the population from a great cataclism.