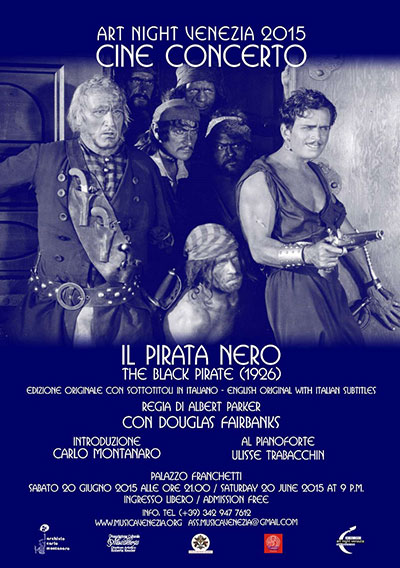 ART NIGHT
CINE CONCERT
THE BLACK PIRATE (1926)
English with Italian subtitles
Albert Parker, director
with DOUGLAS FAIRBANKS
Ulisse Trabacchin, piano accompaniment
INTRODUCTION
Carlo Montanaro

PALAZZO FRANCHETTI
Saturday 20 June 2015 at 9 p.m.
Water, the theme of VENICE TO EXPO 2015, evokes infinite themes of tales and adventure. The myth of pirates intersects with the life of the first of the carefree heroes of celluloid who played the roles of great epic characters of the collective imagination, from Robin Hood to the thief of Baghdad, Dartagnan to Zorro: Douglas Fairbanks. Himself producer, for this work so full of events always accomplished with such ease and irony he invested in the first reliable, although still not perfect system of color, the Technicolor bipack. He produced a film both amusing and charming, magnificent from the point of view of ambience and set design.
The projection of THE BLACK PIRATE will be introduced by Carlo Montanaro and will be accompanied live by the pianist Ulisse Trabacchin with music inspired by traditional motives of English sea shanties and folk songs of the 17th century. Associazione Culturale and Archivio Carlo Montanaro in collaboration with the Università popolare di Venezia.