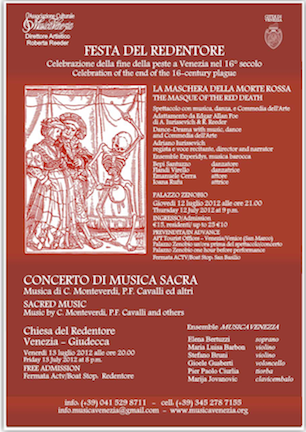 FEAST OF REDENTORE
Celebration of the end of the 16-century plague.
THE MASQUE OF THE RED DEATH
Dance Drama
adapted from Edgar Allan Poe
PALAZZO ZENOBIO
Thursday 12 July 2012 at 9 p.m.

Adriano Iurissevich, director, narrator.
Ensemble Experidys: Marija Zalloni, Carolina Putica, Giovanni Cavallaro, Leonardo, Bortolotto, Alessandro Arcolin, Enrico Bissolo.
Commedia: Emanuele Cerra, Ioanna Rutu.
Ospiti: Damiano Gava, Lorenza Lombardi, Vlad Popa, Gioia D'Angelo, Nicolò Polesello.
Bepi Santuzzo e Flandi Virello, danzatori.
SACRED MUSIC CONCERT
Music by C. Monteverdi, D. Castello, B. Marini.

Ensemble MusicaVenezia
Elena Bertuzzi, soprano
Maria Luisa Barbon, violin
Stefano Bruni , violin
Gioele Gusberti, cello
Pier Paolo Ciurlia, theorb
Marija Jovanovic, harpsichord

Redentore Church
Friday 13 July 2012 at 8 p.m.
Venice celebrates Redentore every year on the third Sunday of July. This holiday is a religious festival, a moment of thanksgiving for divine intervention which saved the scity from the plague in the 16th century. Musica Venezia will present "The Masque of the Red Death", a Dance Drama adapted from Edgar Allan Poe by Roberta Reeder and Adriano Iurissevich. The Experidys Ensemlbe will entertain with elegant music accompanying a performance of Baroque dance performed by Bepi Santuzzo and Flandi Virello.