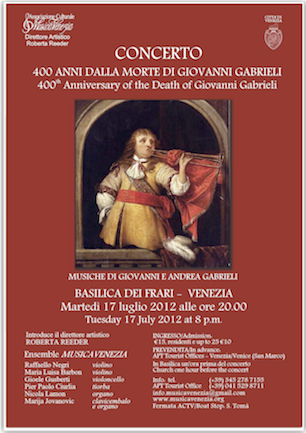 400 YEARS SINCE THE DEATH OF
GIOVANNI GABRIELI
SACRED MUSIC CONCERT
Music by Giovanni and Andrea Gabrieli.
Ensemble MusicaVenezia
FRARI CHURCH
Thursday 17 July 2012 at 8 p.m.
Ensemble MusicaVenezia
Rafaello Negri, violin
Maria Luisa Barbon, violin
Giuseppe Gusberti, cello
Pier Paolo Ciurlia, theorbo
Marija Jovanovic, harpsicord, organ
Nicola Lamon, organ


Giovanni Gabrieli (1557-1612 Venice) is considered the greatest representative of the Venetian school which, while continuing to use renaissance polyphonic elements, inaugurated the baroque epoch. As Monteverdi, he is a transitional figure who spanned two epochs thanks to his extraordinary talent. In this concert Marjia Jovanovic and Nicola Lamon will perform works for two organs by Andrea and Giovanni Gabrieli on the two organs in the Frari Church.