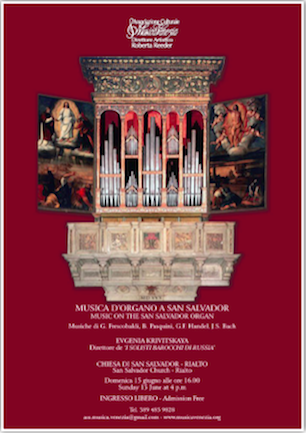 MUSIC ON THE SAN SALVADOR ORGAN
Music by G. Frescobaldi, B. Pasquini, G.F. Handel, J.S. Bach
EVGENIA KRIVITSKAYA
Director of "I SOLISTI BAROCCHI DI RUSSIA"
SAN SALVADOR CHURCH - Rialto
Sunday 15 June 2014 at 4 p.m.


Musia Venezia, directed by Robera Reeder, will present an organ concert in the Venetian church of San Salvador, free admission. There will be music by Italian and German composers from the 17th and 18th century, eprformed by Moscow organist Evgenia Krivitskaya.
In the jewel of Renaissance architecture, San Salvador church, is a very precious organ: it is the only Renaissance organ in Venice, the work of Jurgen and Hendrick Ahrend, internationally celebrated for their tecnique.
It is contained in a case decoratd by the splendid works of Andrea Vecellio (Titian's brother).