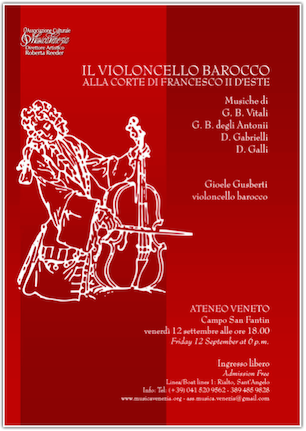 THE BAROQUE CELLO
AT THE COURT OF FRANCESCO II D'ESTE
Music by G.B. Vitali, G. B. degli Antonii, D. Gabrielli, D. Galli
Gioele Gusberti, baroque cello
ATENEO VENETO
campo San Fantin
Friday 12 September 2014 at 6 p.m.
Gioele Gusberti performs music for cello solo by Giovanni Battista Vitali, Giovanni Battista degli Antonii, Domenico Gabrielli, Domenico Galli.
The program is a sonorous aperitif of the elegant compositions of Emilia of the 17th century, which studies have identified as the cradle of the "solo" repertory of that magic instrument, the cello.On this occasion he plays a cello made by an Anonymous person from the Venice area in the middle of the 17th century. The cello belonged to Maurizio Naddeo, to whom this Concert is dedicated.