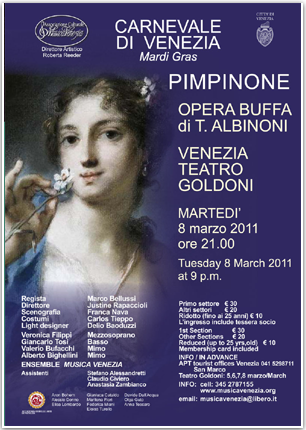 CARNIVAL IN VENICE
PIMPINONE - OPERA BUFFA BY T. ALBINONI

TEATRO GOLDONI
Tuesday 8 March at 9 p.m.

Wishing to transmit the beauty and joy of the historical Carnival in Venice, the Associazion Culturale Musica Venezia is presenting the lovely intermezzo by Tommaso Albinoni Tuesday, Mardis Gras, at the Teatro Goldoni at 9 p.m.
"Pimpinone" is in the tradition of G. B. Pergolesi's "La serva padrona". The comic genre of the intermezzo, born here in Venice, was very popular for the entire 18th century. This work by Albinoni appeared in theatres all over Italy as well as in Vienna, Munich, and Moscow. The clever maid Vespetta, complaining about people gossiping about her position in Pimpinone's house, convinces her master, the rich Pimpinone, to marry her. Once married, the girl reveals her real character of a capricious young lady.