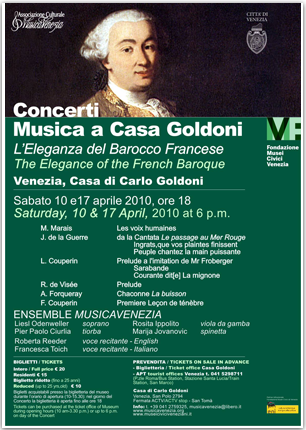 Music at Casa Goldoni
The Elegance of the French Baroque
Ensemble MusicaVenezia
Carlo Goldoni House - Venice
Saturday, April 10 and 17, 2010 at 6 p.m.
The concert for April in the series Musica a Casa Goldoni by the Ensemble MusicaVenezia will be devoted to the elegance of the French Baroque. Each month in this series there is a guest artist, and this month Rosita Ippolito, one of the finest viola da gamba performers in Italy today, will come from Bologna to perform the works of the famous French composer Marin Marais, a prominent musician in the court of Louis XIV. Another musician at the court of Louis XIV was the compositrice Elisabeth Jacquet de la Guerre. Her music has only recently been discovered and performed, but she was very much admired in her time.
She also wrote a series of cantatas on Biblical subjects, and her Cantata about the exodus of the Jews from Egypt, Le passage au Mer Rouge, will be sung by Liesl Odenweller, who will also sing a piece from François Couperin's very beautiful and mysterious work Leçons de ténèbre written for Holy Week for a convent of nuns.
There will also be pieces for tiorba performed by Pier Paolo Ciurlia and for keyboard performed by Marija Jovanovic.