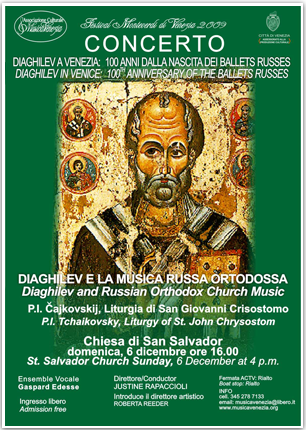 DIAGHILEV IN VENICE:
100th Anniversary of the Ballets Russes
Concert
Diaghilev and Russian Orthodox Churc Music
P.I. Tchaikovsky, Liturgy of St. John Chrysostom
Introduction by Roberta Reeder
Ensemble Vocale Gaspard Edesse
conducted by Justine Rapaccioli
St. Salvador Church - Venice
Sunday, 6 December 2009 - at 4 p.m.
As part of the celebration, "DIAGHILEV IN VENICE: 100TH ANNIVERSARY OF THE BALLETS RUSSES," the Associazione Culturale Musica Venezia is presenting a concert of Tchaikovsky's beautiful sacred music, the Liturgy of St. John Chrysostom.
The mission of Serge Diaghilev was to show the beauty of Russian culture to the West, and for this purpose he founded Ballets Russes in Paris in 1909. Although he spent most of his time in the West, Diaghilev remained a committed believer in the Russian Orthodox religion, loved Russian sacred music and had an important collection of Russian icons. In fact, in 1914 he was planning a ballet, Liturgy, based on the Russian Orthodox Chant, but unfortunately it was never completed.
In 987 Vladimir, the ruler of the Russian land, sent envoys to choose a religion to replace the ancient pagan one. It was the beauty of the Orthodox liturgy held in the magnificent St. Sophia in Constantinople that convinced his envoys to persuade Vladimir to select this religion for his people. In 988 Orthodox Christianity became the official relgion and pagan idols and temples were destroyed. Although the Orthodox doctrine was adopted from the Greeks, sacred Russian music developed its own unique style. Originally the chant was a single melodic line, but under Western influence it developed a form of polyphony. However, in 1879 Tchaikovsky's Liturgy of St. John Chrysostom was published, inspired by the earlier Russian Orthodox musical tradition. This piece thus marks a turning point in the history of Russian sacred music.
Although responsible for encouraging the creation of new avant-garde ballets like Stravinsky's Rite of Spring, Diaghilev believed one cannot create something new without a knowledge and respect for the past. He loved Tchaikovsky, and that is why MusicaVenezia has chosen sacred music by this great Russian composer as part of the celebration of Diaghilev and the Ballets Russes. It will be performed on the day devoted to St. Nicholas, one of Russia's most beloved saints.