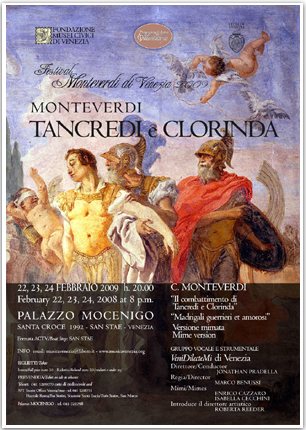 The Combat between Tancredi and Clorinda
and other songs of love and war
di Claudio Monteverdi
Ensemble VeniDilecteMi
February 22 Sunday, 23 Monday, 24 Tuesday , 2009 at 8 p.m.
Palazzo Mocenigo - San Stae - Venice
The concert will begin with songs of love and war by Monteverdi and other Baroque composers, followed by the beautiful The Combat between Tancredi and Clorinda by Monteverdi with mimes portraying the tale told by Tasso in Jerusalem Delivered. The works will be performed by VeniDilecteMi conducted by Jonathan Paradella and directed by Marco Bellussi. The role of the Testo will be sung by Marco Mustaro, Tancredi by Alberto Allegrezza and Clorinda by Sara Bino.
The ambience of Palazzo Mocenigo, which belonged to Girolamo Mocenigo, who commissioned the first performance of Combattimento in 1624, provides an exciting experience of immersion in the art, music and theater in Venice in the early 17th century
The tale is about Clorinda, the Moslem heroine, and Tancredi, the Christian knight and their tragic love which ends in death, eros/thanatos.
This performance of Tancredi and Clorinda is a hybrid theaterical genre, interweaving the protagonists immersed in the action (Tancredi and Clorinda) and an external observer (the Testo), a combination of direct dialogue and epic narration sung to the magnificent music of Monteverdi.