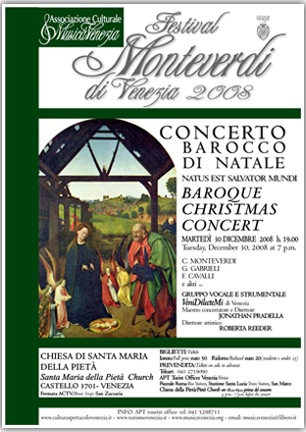 BAROQUE CHRISTMAS CONCERT
"Natus est Salvator mundi"
Music by
C. MONTEVERDI
G. GABRIELI
F. CAVALLI
and more...
Vocal and Instrumental Group VeniDilecteMi of Venice
Conductor and Director: Jonathan Pradella
Artistic Director: Roberta Reeder
Thuesday, December 30, 2008 at 7 p.m.
S. Maria della Pietà Church, Venezia
FOR LOVERS OF THE BAROQUE:
MusicaVenezia proudly presents an emotional and mesmerizing, "BAROQUE CHRISTMAS CONCERT" on December 30 in the Chiesa della Pietà exploring the mysteries of faith through sacred choral music by composers such as Monteverdi, G. Gabrieli, Cavalli, and others. The concert is a part of the "Festival Monteverdi di Venezia" and open to a general audience from all walks and religions. The nationally acclaimed vocal and instrumental group, VeniDilecteMi will be performing on period instruments led by Maestro Jonathan Pradella.