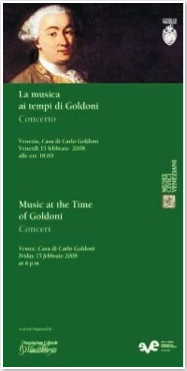 MUSIC AS THE TIME OF GOLDONI
Musicavenezia ushered in a new series: "Music at the time of Goldoni", dedicated to the famous playwright.
There are concerts twice a month, on Friday, with music by composers such as Antonio Vivaldi, Baldassari Galuppi, Benedetto Marcello and Tartini.
Ensemble MusicaVenezia
Alan Dario, baroque cello
Marija Jovanovich, harpsichord
Pier Paolo Ciurlia, theorba, lute
Adriano Iurissevich, narrator
Roberta Reeder, narrator
CASA DI CARLO GOLDONI, San Polo 2794
Friday 15 and 29 February, 14 and 28 March, 11 and 25 April, 16 May, 6 and 27 June at 6 p.m.
CONCERT PROGRAM June 6
Benedetto Marcello
Sonata n. 1 in F major, op.2 for cello and continue bass
Bernardo Pasquini
Sonata for two continues bass no.2 in C major
J.S. Bach
Dalla Suite I for solo cello - BWV 1007
preludio, sarabanda, giga
Bernardo Pasquini
Sonata for two continues bass no.3 in D minore
A. Vivaldi
Sonata n.4 in B flat major, op.XIV for cello and continues bass
Carlo Goldoni
"Incontro fra Vivaldi e Goldoni"
readings from memoirs of Goldoni