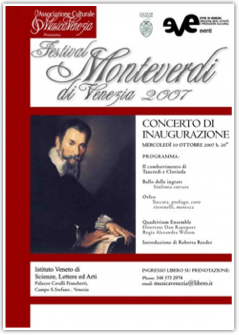 FESTIVAL MONTEVERDI DI VENEZIA 2007
The Festival Monteverdi di Venezia was inaugurated in 2007 as a tribute to the great composer Claudio Monteverdi, Maestro di Cappella of St. Mark's in the last three decades of his life, who was buried in the Frari Church in Venice.
In Venice Monteverdi wrote not only beautiful sacred music for St. Mark's but also important secular music such as "The Combat of Tancredi and Clorinda," the opera "The Coronation of Poppea" and his late madrigals.
During the Easter period MusicaVenezia will present a concert with sacred music by Monteverdi and in May a concert dedicated to the Madonna that includes the "Magnificat" and the "Lament of the Madonna".