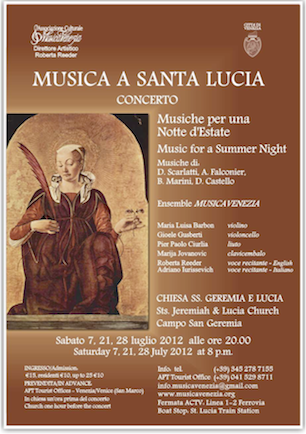 MUSIC IN SAINT LUCIA
Music on a Summer Night
Music by D. Scarlatti, A. Falconier,
B. Marini, D. Castello.
Ensemble MusicaVenezia
Maria Luisa Barbon, violin
Gioele Gusberti, cello
Pier Paolo Ciurlia, theorbo
Marija Jovanovic, harpsichord
Roberta Reeder, narrator (English)
Adriano Iurissevich, narrator (Italian)
Sts Jeremiah and Lucia Church
Campo San Geremia
Saturday 7, 21, 28 July 2012 at 8 p.m.

Elegant sonatas by Domenico Scarlatti will be performed by Marija Jovanovic. Although Scarlatti's vocal works are important, his fame rests mainly on his music for harpsichord. Few of his sonatas were published during his lifetime. The manuscripts that have come down to us were probably edited by Carlo Broschi, known as Farinelli, the great castrato active in the Spanish court since 1737, where Scarlatti had been since 1729 as the Queen's harpsichord instructor and where he died. Now the manuscripts of his sonatas are preserved in Venice at the Marciana National Library. The ornaments and other embellishments in his pieces do not overwhelm the magnificent, and often tender melodiousness of his works.