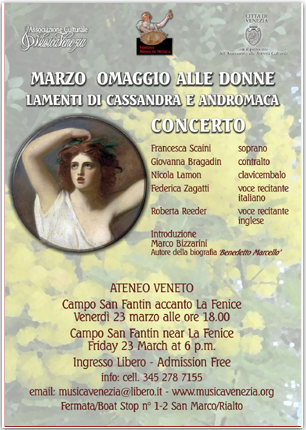 CONCERT: HOMMAGE TO WOMEN
LAMENTS OF ANCIENT HEROINES:
CASSANDRA AND ANDROMACHE
by B. Marcello.
Francesca Scaini, soprano
Giovanna Bragadin, contralto
Nicola Limon, harpsichord
Federica Zagatti, narrator (Italian)
Roberta Reeder, narrator (English)
Introduction: Marco Bizzarini,
author of biography "Benedetto Marcello"
ATENEO VENETO
Friday 23 March 2012 at 6 p.m.
To celebrate March, women's month, Musica Venezia and Veneto Center of Women in Music will present a special concert with cantatas by Benedetto Marcello that are rarely heard--"Laments of Cassandra and Andromache" from the cycle "Ancient Heroines". An elegant composer of great erudition, aristocrat of the Venetian Republic (called "the prince of music"), Marcello may be considered one of the last great composers of the cantata in Venice. His dramatic cantatas are mainly based on Greek mythology. This cycle includes laments of Cleopatra, Medea, Arianna and Lucrezia. In this concert we will hear the laments of Cassandra and Andromache, who both suffered during the Trojan War.